Are you stressed out because your baby isn't sleeping the way you like? Is life just for the most part chaotic? There is actually a simple way to not only help improve your baby's sleeping habits, but it will help you stay sane! That is to keep a baby tracker.
That's right! A baby tracker will be the remedy you desperately need. Not only will it help you track your baby's sleep as well as health, but it allows you to track your own simultaneously!
There are some excellent apps that you can download and have at hand on your smartphone, as well as physical trackers. Some of these apps, like Baby Newborn Tracker, are free. Others, with more bells and whistles, have to be purchased but remain inexpensive. One of them is Sprout Baby. It offers a free two-week trial of the premium version. After 14 days, some limited features can still be used for free or you can pay a small fee to get upgraded.
However, even though apps are great for convenience, a physical baby tracker is generally preferred and highly recommended. The reason for that will be discussed later.
Listed below are six reasons why a baby tracker is a must-have.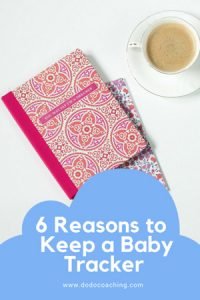 1. Your Memory is Only Capable of so Much
Face it. When you are exhausted, you do not remember on your own when was the last time your baby ate, or had a wet diaper, or slept! There are too many details about your baby's health and habits that you cannot possibly remember, which need to be noted.
In addition, when you log the important details about your baby's habits and overall health into the tracker, you will not be overwhelmed with trying to remember what happened. This will remove plenty of stress alone.
Not to mention, when you are asked much later on when the first time your baby slept through the night, sat up, crawled, or walked, you won't remember precisely on your own. But if you log that into the tracker, you can give a definite answer.
2. Your Baby's Pediatrician Will Have a Clearer Picture of your Baby's Health
In order to know how healthy your baby really is, your child's doctor is the only one who can make that assessment. If you are unsure of how often your baby is really eating, how many wet diapers that he or she is producing, or how well your baby is sleeping, the pediatrician won't have a clear picture of your baby's overall health if you can't give a precise answer. A baby tracker that has all of that information logged by you will give the doctor a much better idea of how your baby is really doing, and therefore will make suggestions if needed. Not to mention, your child's medical specialist will be incredibly appreciative that you have made his or her job easier.
3. A Baby Tracker Can Be a Great Problem Solver
When you take the initiative to write down your baby's daily activities, you have a clear picture of ​​the average number of hours he or she sleeps at night and during naps. You also get to know when exactly your child prefers to sleep and what are the apparent sleep cues. In fact, thanks to the baby tracker, you are aware of what happens at bedtime and during the night, what works to put your baby to sleep, what does not work, how he or she reacts to the lack of sleep, etc. If your baby is always fussy during a specific hour during the day, you may make some discoveries about your baby's needs before having to run to the pediatrician. For instance, if you have a 4-month-old baby who is awake for 4 hours – that is incredibly long for an infant of that age to stay awake. Therefore, you will see that a small nap can be inserted into that timeframe. If you put a 1-hour nap in there and log that into the tracker, you will see that your baby is calmer, less cranky because of not being overstimulated and overtired.
Be sure to note when and how often night awakenings occur. Also, keep track of what helped your child to go back to sleep. Did you rock him or her, give the pacifier, sing or bring the baby to the parental bed? Having a written record, instead of relying on mental notes, totally blurred by the lack of sleep, will give you a more accurate idea of ​​your child's patterns and preferences.
Read: What is healthy sleep hygiene
4. You Will be Able to Predict the Future
Once you start to become used to your baby's natural rhythms on a daily basis, you will be able to become familiar with this latter's preferred schedule. For instance, if your baby has an afternoon nap, and usually falls asleep at 1:00 p.m. and wakes up around 3:00 p.m., you will be able to plan around for that nap time. Either do laundry during that time or pay bills or just have some relaxation time. When it gets closer to 3:00 p.m., you will know what preparations are needed for when your baby is ready to start the afternoon activities.
5. A Baby Tracker is Helpful for Caregivers
If you have a babysitter, grandparents, or other caregivers watching your baby at a certain time, instead of writing everything down on a separate piece of paper, all you have to do is hand in the baby tracker. Many questions will be eliminated because your little angel's sleeping, eating, and other habits will be noted at specific times. Therefore, unless there truly is an unexpected problem, there is no reason that they should be contacting you at all while you are out trying to catch up on "ME" time.
6. It's a Great Memory Keepsake
Your baby will grow up as you know, and you will look back one day and be amazed at how your child's needs have changed over time. Your kid will be amazed to know when he or she started sleeping through the night, sat up and crawled for the first time, and walked. You may even be impressed with yourself for how you handled caring for a baby. Not to mention, your child may even be fascinated to read it.
However, if you only utilize a baby tracker app then this will unfortunately not be useful unless you print the information off from it at the time it was used. A physical notebook is perhaps a little less convenient since you have to keep the journal by you to log the information instead of your smartphone. However, using a physical tracker is the best decision to make when it comes to something to look back on at a later time.
Another thing to remember with a baby tracker is that not only do you need to track your baby's sleeping and eating habits or how many wet diapers he or she is producing. It is important to keep a record of your baby's weight gain as well as any exercises you have been doing with your little one. If you track literally everything about your baby's habits and health, you, your pediatrician, and all the caregivers will know everything about your baby. Whether you use the app or physical book to log every detail about your baby, you are making life easier for you and everyone else who is involved in your baby's care.
Before starting to help parents sleep coach their child, I always recommend keeping a baby tracker in order to share valuable information with me. By filling in the baby tracker on a regular basis, you will discover your baby's patterns by comparing the day/night trackers over a period of at least one week. This way, you can already get many answers to your questions.
If you would like to get more information on how to improve the quality and the quantity of your child's sleep, schedule your first free consultation now! It is a free and non-binding offer.