"We are what we repeatedly do. Excellence is not an act, but a habit." – Aristotle
One of the worst things a parent wants to hear about their parenting methods, especially when it comes to their child's sleep, is that what they have been doing is just making things worse.
Yes, I know. You are deathly sleep-deprived and you have been putting all your energy into teaching your child how and when to sleep, but it hardly works. The good news (if it helps you) is that this problem is common but not irreversible. The inability to sleep coach a child happens surprisingly often.
Are you facing challenges?
Ask yourself this question – Do you want to continue to be a parent who puts a lot of efforts into your child and still doesn't get any result? Well, I don't want you to stress about your parenting skills. So, let's get into this 'Oh-so-sad' situation of yours and find out the best way out!
What's the one-word-answer to sleep problems?
"It's not what we do once in a while that shapes our lives. It's what we do consistently." – Anthony Robbins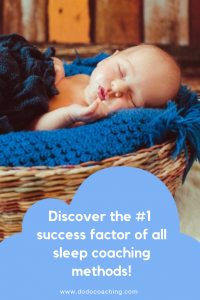 The key to change any behavior, whether it is related to sleep, work and even discipline, is consistency! A study has shown that no matter what sleep coaching approach you apply on your kids, it is not all that important to get good results. Confused? Well, more than the sleep coaching method, the consistency at which you apply the measures is important!
When your child refuses to nap or when he starts to cry at 3 AM, you might discover that there are some inconsistencies lingering around your sleep coaching.
These inconsistencies may go like this.
You create and decide on a sleep plan and apply it on the first night. After thirty minutes into it, you give up and decide that this isn't working or this might not be the right sleep coaching pattern which could work for your kid.
You and your significant other (or other caregivers) are extraordinary at functioning as a team and both take turns putting your little child to sleep. The main issue comes when one of you doesn't stick to the sleep plan. Rather than putting your baby down drowsy but awake, one of you winds up resting and nodding off alongside him.
You fall off to sleep and suddenly the crying of your baby jolts you up. You rush into your baby's room and try to calm him down. At this moment, you don't even remember what your sleep plan is! All you want is to go back to sleep as soon as possible. So, any efficient solution (i.e. sleep crutch) is welcome.
Do these inconsistencies sound familiar to you? I have come across these inconsistencies many times when sleep coaching sleep-deprived parents. Inconsistencies don't just stall the sleep coaching process, they can do much worse.
Why does your child need consistency?
It is important that parents are consistent with their child because it sends him the message that they mean what they say. They can be trusted.
As a parent, I can be ambivalent about rules. Even when I know they are good for my children, they are sometimes difficult to enforce when tears roll down. Being a loving parent doesn't mean welcoming chaos without limits. With time, children learn how to approach the world by observing the values shared by its entourage. The more consistent the words and actions, the more stable they will feel. Children need to know what to expect. Without consistency, they feel lost, insecure and encounter difficulties controlling themselves.
Setting limits does not mean that you decide everything for them. Of course, you determine when your child needs to take a bath, brush his teeth and have dinner. However, parents must have some flexibility. It's good for children to know that some things are negotiable in certain situations. Therefore, you should give your child some choices and a sense of autonomy. Let him choose the book he wants to read during the bedtime routine or the stuffed animal he wants to fall asleep with. Limit the options to 2 or 3 items in order to set a time limit for the decision-making process.
How can you stay consistent when sleep coaching your child?
Choose Practicality. It is very important for all parents to understand that sleep coaching a child is not going to be smooth. There will be hiccups and you would have to deal with them. Not just that, there will be situations when you will not have enough time, energy or motivation to follow the sleep coaching rules. So, what should you do to prevent any  inconsistency?
You have to think about practicality. During the upstream preparation, take all the possible circumstances into consideration and develop a realistic sleep plan. You have to be completely honest when prioritizing things and give a special attention to the possible flaws. Will your partner have enough patience to sleep coach at night? Will the nanny stick to the sleep plan? Is the child's daily schedule compatible with the family's timetable?
Timing is everything. Parents are worried about the right time to start with sleep coaching. If you have a sleep plan perfectly carved out for your child (who is older than 18 weeks), then RIGHT NOW is the best time to get into this challenge. Although it's important to make sure that it's the good time for you and your child, I recommend you to not to wait too long.
If you are about to go on holidays, relocate or change your professional situation, you may want to delay the sleep coaching. I recommend choosing a time to start sleep coaching when you can realistically expect about three weeks without any disruptions or major changes.
Commit to the change. Be prepared for things to become tough. Undertaking any kind of sleep coaching is hard and there will be times when you will want to give up. However, let me assure you that every minute you spend sleep coaching your child is totally worth it. If your heart is not into it completely, there will be moments when you will not find enough energy to follow through the plan. You will land yourself into 'Intermittent Consistency' and we all know where that takes you and your child.
It's absolutely normal to feel like giving up. But think about it this way. What you are doing now will shape your child's future. It's not just about getting the right sleep habits in place; it's also about helping your child increase its power of understanding things and boosting his level of adaptability. That only happens when you consistently help your child to achieve adequate rest through the nights and during naptime!
Have Patience. Rome was not built in a day. Believe me, all this hard work and planning will have a wonderful outcome. Your child will begin to enjoy peaceful nights and so will you! It's really important for the parents to understand that without patience, reaching the set goals will become difficult. It's a time-taking process.
When things go rough (and they will), always remind yourself of the 'Why' you decide to take this rough path. You are doing this for your child and all other family members. No matter how bad the situation seems right now, it can always get better with your patience and consistent efforts. Just believe in your established sleep plan, in your child and in yourself.
Don't beat yourself up. Let's be real. You are not going to be consistent all the time. We are humans and we love to err. Don't beat yourself up when you deviate from the original plan one night. Get back on the right track the following day.
You will make mistakes and probably learn from them. Keep developing your parenting skills and you will get great results. Work on your consistency and you will achieve what you set out for yourself.
I hope I brought great value to you through this informative blog post. If you would like to get more information on how to improve the quality and/or the quantity of your child's sleep (and yours at the same time), do not hesitate to schedule a 15-minute preliminary consultation. It is a totally FREE & NON-BINDING offer! I can help you to stay ahead in your parenting game!