As many residents in Manhattan, my husband and I were renting a one-bedroom apartment when we had our first baby girl. Noise exposure was thus inevitable and did disturb our baby's sleep. To avoid damaging her sleep as much as possible, we were tiptoeing around our sleeping little one and moving around like ninjas. Our master word at that time was "silence".
When my daughter was 2 months old, I joined a New York mom's group. I wanted to meet other mothers and share new-life experiences. I quickly realized that there was a gap in our motherhood conception and knowledge. Our cultural background were most assuredly at the origin of the differences.
During one of our gatherings, the "white noise machine" was mentioned and widely recommended by all participants. I had never heard of this device. Even by translating it in French, it still remained a mystery to me. I did not want to take out my cell and search what they were talking about. So, I remained clueless for the rest of the session.
Due to my spirit of curiosity, I could not let it go and had to understand what I had been missing out during that conversation. Once back home, I did some research and found interesting articles addressing the topic.
I could not believe what I was reading. White noise can help my child to fall asleep?!?!? Up until then I thought she needed complete silence when resting. I had to test it and bought Marpac's portable version.
Considering the incredible results obtained, I wanted to share my findings with you. There are still too few parents around the world that know about this well-kept secret. As a Certified Sleep Coach, my goal is to help parents create the best sleep environment for their child to give this latter the opportunity to sleep better and longer.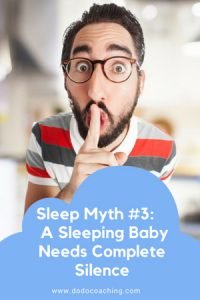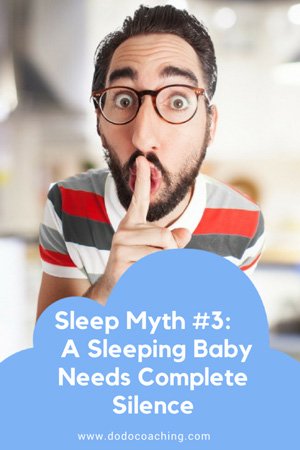 White noise: a kinder, gentler sound 
"White noise" refers to consistent sounds coming out evenly across all hearable frequencies. These are covering other sounds that may be generated naturally in an environment. They help block disruptive nuisances generated in house or outside. The sounds from a white noise machine, comparable to the ones emitted by a vacuum cleaner, hair dryer, water running or rain, help soothe babies (as well as adults).
Related post: 6 Things You Did Not Know About A Baby's Sleep
How white noise could help your child fall asleep
Let's face it; turning on a white noise machine before your child goes to sleep is probably one of the most counterintuitive initiative you could take.
However, a groundbreaking 1990 study published in the Archives of Disease in Childhood has demonstrated how white noise can induce sleep. Forty newborns were divided into 2 groups of 20. Only one of the 2 groups was exposed to white noise. It has been observed that 80% of the neonates benefitting from white noise (i.e. 16 babies) fell asleep after only five minutes while this number dropped to only 25% (i.e. 5 babies) for the other group. Similar effects have been observed on adults. In short, white noise is better noise for most sleepers.
The best sounds inducing sleep are the ones that closely emulate the noise a baby heard while in the womb. When she was still a fetus, she was lulled by the sound of the blood flow in the placenta and the gurgling of the mother's stomach. The continuous sound diffused by the amniotic fluid reaches a level of intensity comparable to the noise of a vacuum cleaner or a hairdryer. Therefore, most newborns actually love background noise produced by a white noise machine or a fan. Monotonous postnatal sounds are beneficial thanks to their reassuring and soothing effects. You can finally relax and forget about spending your evenings on your tiptoes!
Why you should use a white noise machine
When you become a parent, you want to make your baby the most comfortable possible and create a sleep-friendly environment. Nevertheless, uncontrollable and disruptive sounds (e.g. honking car horns, barking dogs, noisy neighbors or screaming sirens) can make your hair stand on end. In these situations, you most certainly feel your body tensing, wringing and you silently pray that your baby stays in Wonderland.
To help put a baby to sleep, pediatricians often recommend relaxing activities, such as massages or warm baths. Implementing such a routine is great but won't help whenever distracting noises are interrupting moments of rest.
Since white noise offers the combination of steady sound at specific frequencies and blocks disruptive noises, it makes this soothing technique also highly recommendable. So, consider using a white noise machine to make your little one fall asleep and help her stay in Morpheus' arms.
How white noise can be reproduced
The goal is obviously not to raise your water and electricity bills to make your child sleep. There are small machines that reproduce white noise. They create a sort of an airtight bubble that effectively blocks external and uncontrollable sound distractions. In addition, a white noise machine reproduces sounds your baby has heard for 9 months as she grew. This type of noise offers her some kind of comfort.
As a Certified Sleep Coach, I recommend parents to use a white noise machine or other devices emitting alike sounds. If the baby's sleep environment has to remain in a complete silence at all times (which is rarely possible), the family would live under high pressure. Overprotection brings nothing positive in a long run unless you have decided to isolate and keep your baby forever in a cocoon.
Given the beneficial effects of a white noise machine, I always recommend that parents include this item in the baby registry. You should turn on this magic device as soon as you get back from the hospital. If you decide to co-sleep or share the bedroom, you will probably also benefit from the soothing sound generated.
Should you have a small budget, think about using a fan, putting on the air conditioning or heater (depending on the season) or download an app that continuously emits white noise. If you decide to use your tablet or mobile phone, put your device on the airplane mode to avoid exposing your baby to too many electromagnetic waves.
How to select the best white noise machine
When browsing for the perfect machine, you quickly discover that the range of possibilities is pretty large. You can easily get lost and overwhelmed.
Pick one that offers a volume control and a variety of sounds. The first couple days, you might need to test the different features in order to match your child's preferences. Know that the continuous sound heard in the mom's womb is about 50 decibels. This gives you an idea of ​​the acceptable level of noise.
Despite the many benefits, white noise machines do not always offer peace and quietness without risk. In 2014, the American Academy of Pediatrics (AAP) tested 14 white noise machines. It was found that they all exceeded the recommended noise limits, set at 50 decibels. In addition to increased hearing problems, the study found that the use of white noise increased problems with language and speech development. Based on the results of the AAP, pediatricians recommend that a machine should be placed at least 2 meters from a baby's bed so that the noise does not become a nuisance or a source of distraction.
In addition, check that the different sounds are of the white-noise type; they do not only have relaxation effect but also cover outside noises. There are many other sounds that you might think are pleasant to hear. However, only pure white noise is efficient. Several times, I came across parents' suggestions to download the soundtrack that you usually hear in a spa. In my opinion, such music doesn't block outside distractions. Other sounds, including lullabies, stimulate the brain activity, even when sleeping.
The Marpac Dohm-DS is considered to be the Rolls Royce of the white noise machines. It generates a mechanical white noise thanks to the integrated fan emitting a natural whirring. Marpac markets a portable/travel version at a lower price which I personally purchased and highly recommend. LectroFan can also be a great alternative. It offers 10 fan sounds and 10 ambient noise variations. This machine comes with a volume control.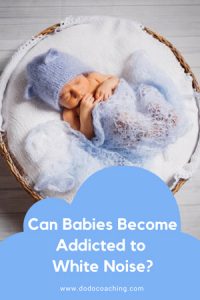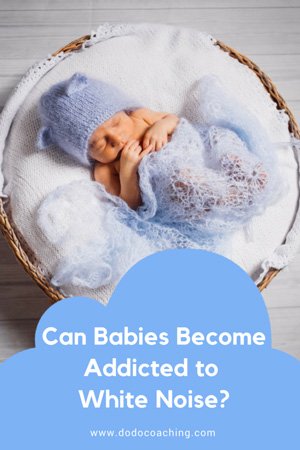 Dependency to white noise 
White noise is a temporary solution for sleep time, but it isn't the only sleep-enhancing solution that will put all babies to sleep (that would be too easy and put me out of business).
You may be tempted to turn off the white noise machine after having checked that your baby is sleeping soundly. However, your child goes through different sleep cycles during the night. When experiencing partial arousals, she may start crying or turning around in the crib. She could even end up being wide awake when you just entered into a deep and restorative sleep.
Babies who respond positively to white noise might sleep better at night and during naps if the sound is consistently available. Therefore, the machine should emit white noise continuously to remind them at all times that they are in a familiar and reassuring environment. Remember that white noise can be comforting and familiar, since they heard constant and loud noise 24/7 when they were in utero.
So, make sure to choose a machine that works at least 12 hours in a row. It should not turn off automatically after a set period of time. A timer is not a feature needed per se. Only you should be the responsible one for starting and stopping the device.
If you use a white noise machine every time your baby goes to sleep (i.e. at night and during naps), she will probably associate this noise with her sleep-preparing routine. She may experience some difficulties falling asleep without the machine. So, remember to bring the machine when you are away from home, on holidays or at daycare.
When your child arrives in a new environment, she will be surrounded by very few familiar objects. Her five senses will be stimulated in order to discover sources of reassurance. White noise emitted by the machine will sound familiar to her, soothe her and help her fall asleep. It is therefore extremely important that you switch on the machine only during resting periods to help your child associate white noise with sleep.
Once your child seems to have reached the stage where she could fall asleep without the machine, consider gradually decreasing the volume night after night. Avoid abrupt changes.
Don't expect miracles or a quick fix
Remember that newborns and babies wake up at night, because of a feeling of discomfort or a feeding need. So, the white noise machine might not keep your baby asleep all night long as soon as you use it. The device won't resolve all your family's sleep issues.
Also, know that white noise does not work for all babies. Every baby is unique when it comes to sleeping. Using white noise sometimes leads to failure. If the use of white noise shows no positive effect on your little one, do not panic. There are other soothing techniques that could help her fall asleep. Think about giving her a lovey or a pacifier. Schedule an appointment with your pediatrician and a Certified Sleep Coach if your baby is having trouble falling sleeping on her own or if the self-soothing techniques you have tried are completely inefficient.
If you would like to get more information on how to improve the quality and/or the quantity of your child's sleep (and yours at the same time), do not hesitate to schedule a 15-minute preliminary consultation. It is a totally FREE & NON-BINDING offer!